ABOUT THE PHOTOGRAPHS
The Gallery collections show my work. My style is distinctive. Many of the landscape photographs are taken from the air, flying in the first and last hours of daylight when the light is most dramatic. They appeal to that sense of mysticism in beauty: the photographic equivalent, perhaps, of magical realism at the rise and fall of the day. I hope you like them.
As equipment I have used Kodak diapositive film for over 30 years and, since 1990, Nikon F3 cameras with Nikkor lenses.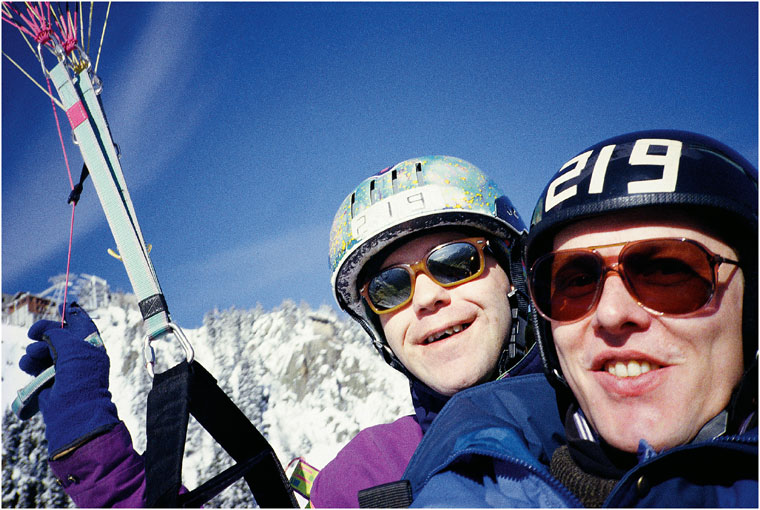 My first flight, Chamonix, with Laurent Sohn. February 1996.
For their help in learning my trade my thanks are due to Nicolas Axus in Chamonix, Katrina Vasilevska in Rīga, Gus Norbert at Flash Photodigital in London, Jonathan Cosh in Surrey and the brilliant Arvydas Maknys along with all at Procentras, Vilnius. All have been my kind teachers. The best advice I ever had about photography was from Nicolas Axus: "Le photographe doit se mettre en situation."
With thanks to my pilots.
They fly me. I operate the camera. God does the lighting and scenery.
In Latvia:
Igors Belovs, Anatolijs Kupče, Aldis Mūrnieks and particularly my friend Māris Markovs.
In Lietuva:
Algimantas Raupelis and Viktor Drozdov, Algimantas Daubaras, Arturas Laukys, Kęstas Vaštakas, Tomas Kuzmickas, Gediminas Kazakevičius, Viktoras Stanaitis, Linas Rūtelionis, Aurimas Vengrys and Antanas Klikna.
In Estonia:
Viktor Belov.
In Polska:
Wojciech Ochocki, Mateusz Lipiński, Michał Wieczorek, Grzegorz Wywiał, Alex Potocki, Marek Zgierski, Direktor Paweł Agaciak and all at the Aeroklub Krakowski.
Around Mont Blanc:
Laurent Sohn (tandem paraglider) and Pascal Brun (Chamonix-Mont Blanc Helicopters)
In Holland:
Nick van der Meer and Floris de Zwart of Ryfas Helicopters.
Lastly, my profound thanks for this website go to my friend Richard Watts, who always manages to make me laugh.